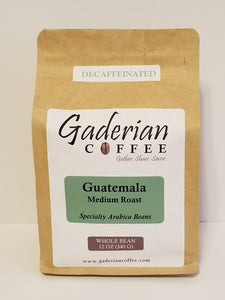 Our most popular product, the standard 12 oz, Guatemala Specialty Grade Coffee, whole bean bags are known for their full-bodied, brown sugar, maple syrup, sweet chocolate flavor.
Grab a bag for yourself or a bag as a gift for the coffee lover in your life for a Christmas gift this year!
Roasting and decaffeinating a coffee bean can be a complicated process that leaves many coffee blends lacking flavor and richness. You won't find that problem with Gaderian Decaf Roast. Available in our Medium Roast, this well-rounded blend is ideal if you're trying to cut down on caffeine but still can't live without your coffee. 
As always, 100% of our profits go directly to supporting our passion, coffee with a purpose.