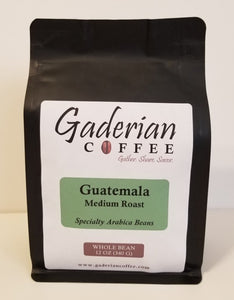 Our most popular product, the standard 12 oz, Guatemala Specialty Grade Coffee, whole bean bags are known for their full-bodied, brown sugar, maple syrup, sweet chocolate flavor.
Grab a bag for yourself or a bag as a gift for the coffee lover in your life for a Christmas gift this year!

Medium roasts offer a more well-rounded flavor profile, with slightly sweeter tones. This is a great starter for those who are unsure of your coffee preference or if you're planning to serve to a large crowd, like a church congregation or if you like serving coffee to your customers. Even the most discerning of coffee drinkers will be satisfied with a nice cup of our smooth, richly flavored medium roast. To learn more about the roasting process and differences in medium roasts vs others, check out this article.

As always, 100% of our profits go directly to supporting our passion, coffee with a purpose.