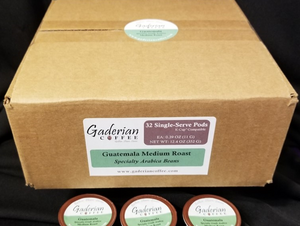 You didn't think we'd forget our version of K-Cups
®
did you? They may be our most recent product, but we have them! Currently, we're giving them a shot, available in our most popular, medium roast.
Our single serve pods are great for more than just the name brand machines. They'll work in any machine that accepts coffee pods and are available in several count options to accommodate coffee lovers of all sizes. Whether you're the casual, cup-a-day coffee drinker or you're serving a church full of people on a Sunday morning, we've got you covered! The larger count boxes are great for churches, businesses with waiting areas or anyone who wants to support our mission and passion, coffee with a purpose.
- 32 count
- 36 count
- 72 count
- 100 count
- 250 count
- 500 count
As always, 100% of our profits go directly to supporting our passion, coffee with a purpose.
Grown at over 5,000 feet, this coffee exhibits a full-bodied, brown sugar, maple syrup, sweet chocolate flavor.